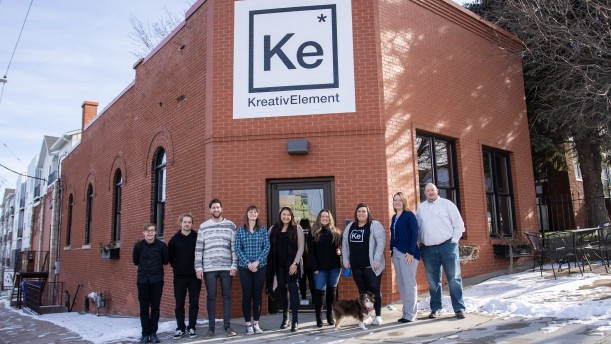 In high school, James Duran brokered lockers for his classmates. Now he uses his business savvy running KreativElement, a digital media agency located in the heart of downtown Omaha.
"I had always had a bug of being an entrepreneur," said Duran, the firm's managing partner, who added that he has a knack for problem-solving and thinking outside the box.
For their outstanding service to the Omaha metro, KreativElement has been selected by the Omaha Chamber of Commerce as the first Small Business of the Month Award Recipient of 2020.
In September 2012, KreativElement was formed out of a small digital agency of a different name to serve as a comprehensive digital media agency. The firm focuses primarily on social media management using video to communicate client marketing strategies, but it also offers services of all kinds while maintaining a role laying the foundation of a business' marketing strategy.
"We are fairly siloed, which means that we have specialties in things like social media, web design and development, and digital ads – that's SEO, SEM and display ads," Duran said, using acronyms for search-engine optimization and search-engine marketing.
To maintain a loyal clientele base, KreativElement strives to create long-term relationships with every organization it represents.
"Those businesses that started with us in 2012 are still doing business with us today," Durnan said, adding that his team has been able to bear witness to their partners' successes.
Having acquired a business recently that won the award in 2016, Duran said he and his team are excited for the positive feedback from their community. Going into the new decade, the business is focusing on health care; nonprofits, professional and home services; improving processes; and on continuing to do bigger and better things.
"It's a new decade, a new year, a new time, it's a fresh start for everybody," he said. "We have plans for big growth in 2020."
One aspect of KreativElement that has made the business so successful are its core values, summed up as "TRIBE." That means the firm's team operates with Transparency, is Results-oriented, comes up with Innovative ideas, hires and serves the Best people and clients and Engages with its community.
Courtney McGann, director of operations, said she enjoys her role at KreativElement because they're not "helicopter bosses."
"People don't have the fear to fail, which means they're more open to trying new things and taking risks," McGann said.
Logan Aurelia, a staff member of KreativElement, said his favorite part of his job is the team.
"We all get along really well," Aurelia said. "We work together creatively and cooperatively, and like the variety of the clients. I have about 20, and they're all completely different."
Duran said the firm strives to be transparent with its clients.
"We don't hide behind what we call 'digital magic,'" he said.
The team explains every element in the creative process of fabricating their media to prove exactly why their time and services are so valuable – which makes the firm a better partner.
"I treat every business we work with as if it were my own," Duran said. "We say that we're essentially your marketing department; we just don't drink your coffee."
To find more information about KreativElement and its services, visit kreativelement.com.
See the full story here: https://www.omahadailyrecord.com/content/kreativelement%E2%80%99s-core-values-bring-clients-success